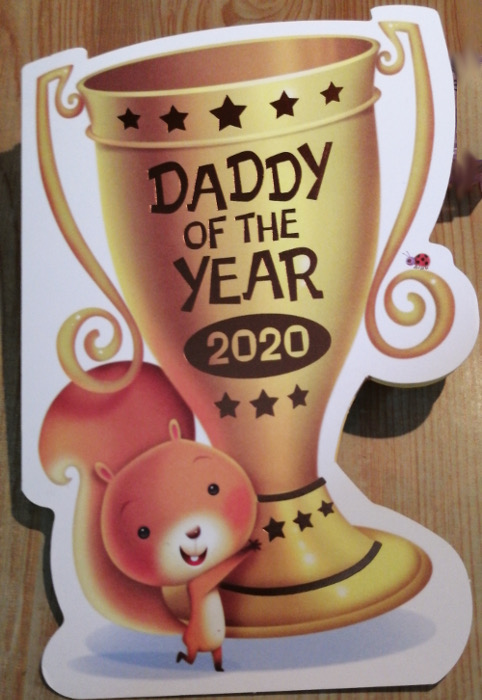 Cry daddy cry, make your daughter sigh … (Letter #024)
A brief note from a sentimental old fool
Dear Baobao,
By the time you read this you will without a doubt now that your old dad's heart isn't exactly made of stone; you'll have learned how easily I come to tears the first time I come to towards the end of The House at Pooh Corner and I need you to get off my lap and run to get me a kleenex.
Still, I wasn't expecting you — or "you" — to make me shed tears of joy only three days into your 11th month on Earth. But there we were …
The time? About 06:30. You'd woken a little after 06:00 and fussed quietly in your crib for a few minutes as I slowly rose towards the surface of consciousness. It was 06:14 when I checked my phone for the time, almost precisely four hours since your mum woke me up to come downstairs and "deal" with a bug (you know she has a phobia of all that creepeth upon the ground) that had ensconced itself on a lamp-shade. "You owe me!" I muttered as I dropped the ichor-fouled tissue into our organics bin. "I'll take care of her when she wakes up," quoth your mum, but four hours later I let her off the hook; the wee hours are our hours, no matter how tired I am. Do I brag? I suppose so, but this whole post is sort of a brag, if you pay attention to the hand-writing on the card below.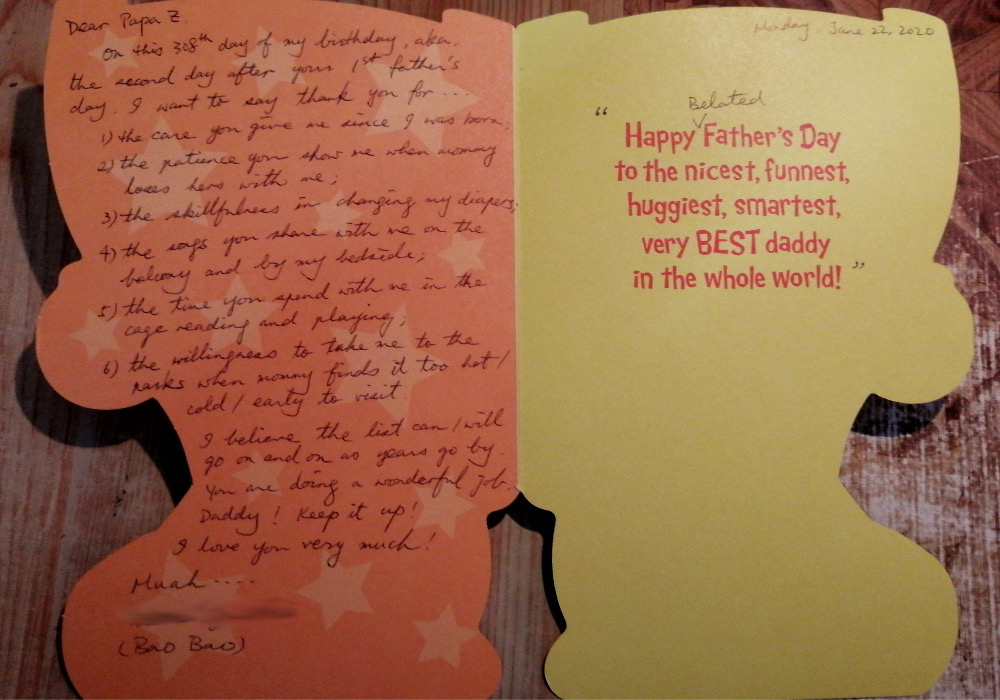 Yesterday, all three of us went for a walk to the park, though by way of a detour to our local drugstore-cum-general-store (alright: Shoppers). Mama Raven said she wanted to pick up some soap and that you and I should wait for her at the park. "I want to enjoy the air con," she told us, and knowing how much she hates the heat, I thought little of it.
And after supper, she apologized for not having bought me a Father's Day card — the sly, sly, woman! Naturally, I said that it was fine, I don't care much about cards anyway.
In theory, I still don't, but … well, this one sure made Papa Zesser feel special. I know your mum "helped" you write the card, but I shall hope against hope that in time you'll agree with the sentiments expressed on your behalf.
Love,
Papa Z(ed)
Ottawa, June 22, 2020
---
Hey there! Since you're reading my daughter's correspondence, why not …