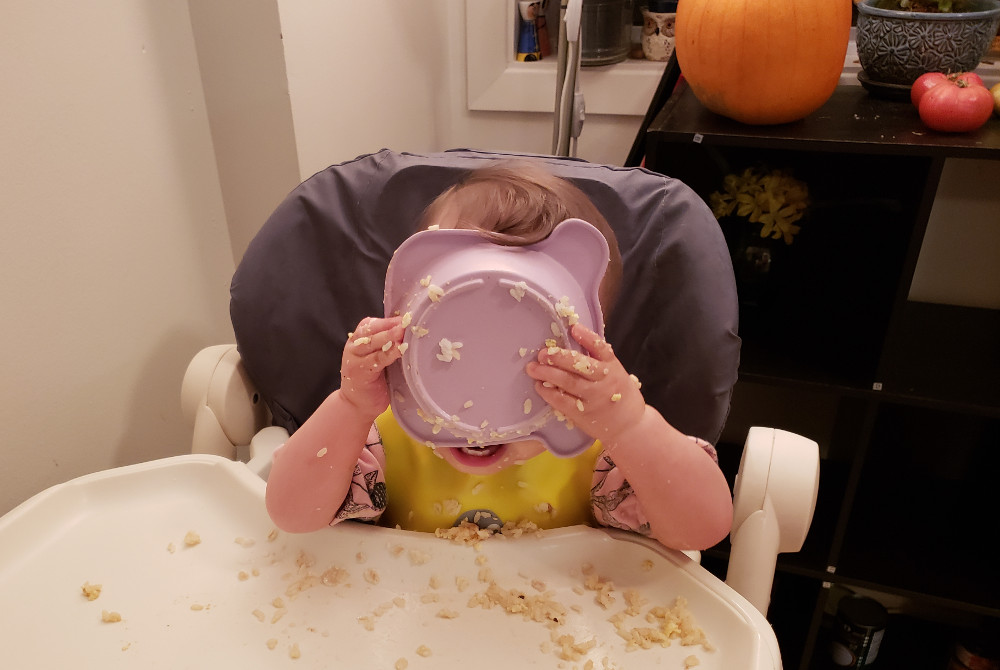 Dear Baobao,
Once upon a time, many, many years before you were born — indeed, many, many years before Mama and I ever met — I rode my bicycle from Montreal, where I was then living, to visit your Grandpa Carl in Ottawa. (Full disclosure: I only made it around 3/4 of the way; I was a smoker in those days, and my dreams exceeded my stamina. Please don't ever let me catch you with a cigarette or a vape in your mouth!)
About halfway, in a very small town somewhere near Lachute, I stopped for some food (yes, and a smoke) and bought a French-language newspaper — I think it was La Presse. In it, I read a column whose subject has long since vanished from memory, but it included a lovely anglicisme I've never forgotten: bésébodé. It was neither printed in italics nor with quotation marks; it was used as a French word. Sound it out and you'll know precisely what it means.
In recent weeks, it has also become a nickname by which Mama and I have taken to calling you …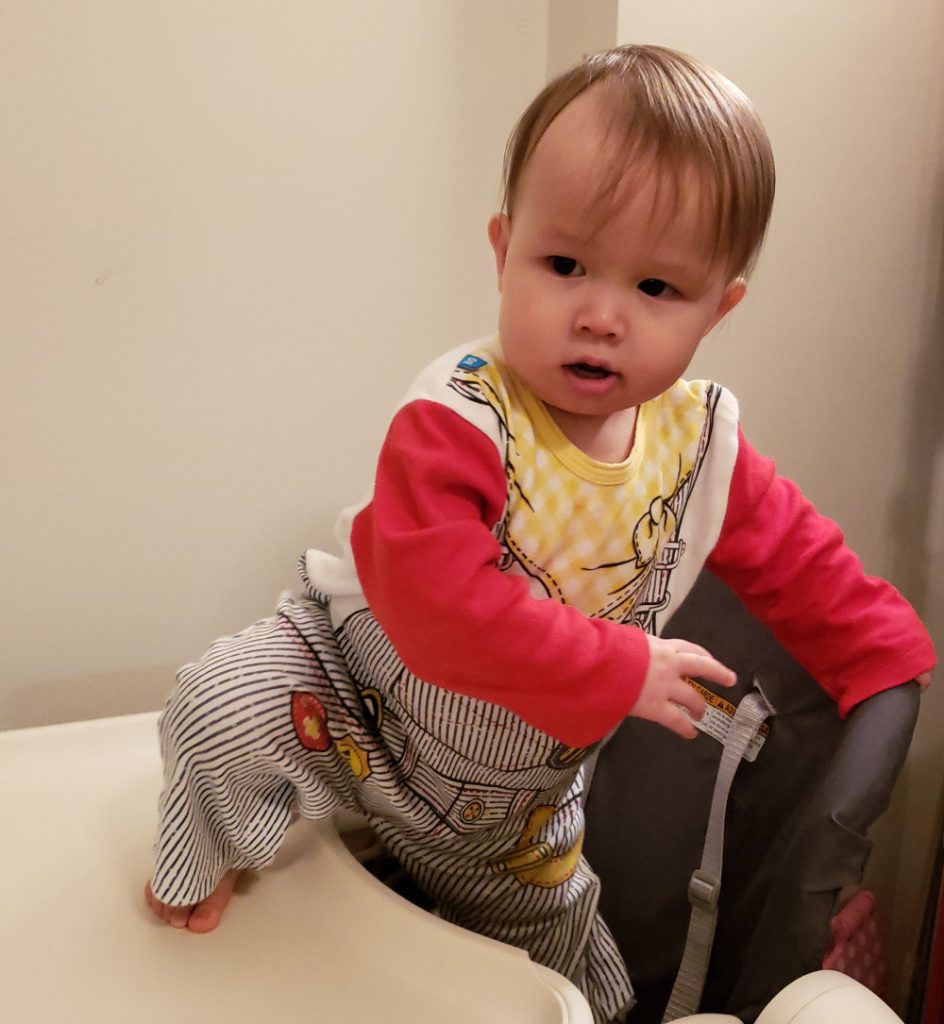 Case in point. Last night I was sitting with you, with my back against the edge of the couch as I sang one of your favourite books to you, Sandra Boynton's sing-along book, Snuggle Puppy: A Little Love Song.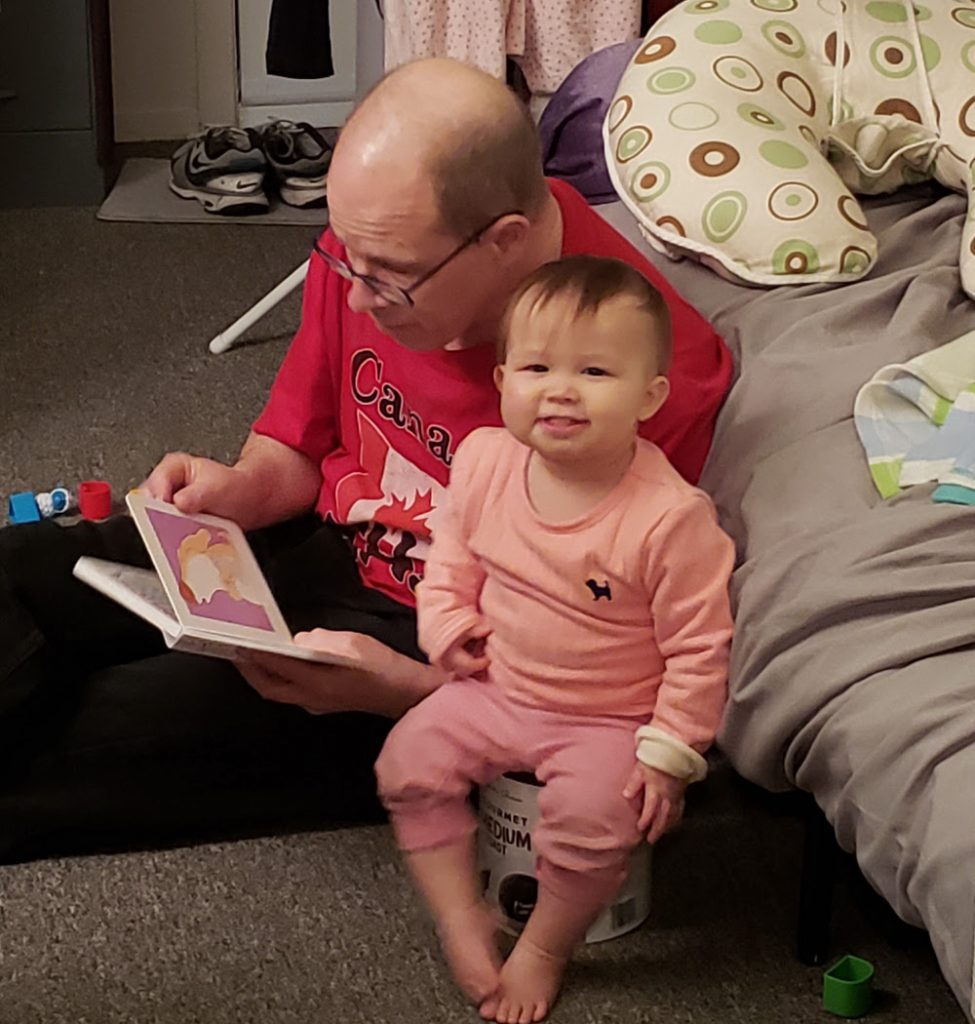 But you cut me short when you heard Mama come downstairs to the kitchen. Or rather, you cut me short when you heard her open — but not latch — the gate at the bottom of the stairs.
You leapt (as close to leaping as a toddler can manage) to your feet and rushed into the kitchen, waving your right hand over your head with your index finger extended purposefully, shouting something like, "Da! Da! Da! Da!"
As an example, see the video below, shot on November 17th, 2020. You don't cry about such problems any more, but you're just as intent on seeing that they're fixed!
Baobao cannot abide an open lock! Video by Mama Raven, December 17, 2020.
Chastised, Mama went back to the gate and carefully latched it, you came back to the living room and settled back down on the floor with me, ready to carry on with the book we'd been sharing.
And un-latched gates are only one of the items on your security agenda. In no particular order, what follows is a no doubt incomplete list of things you watch out for and are always ready to chastise us about.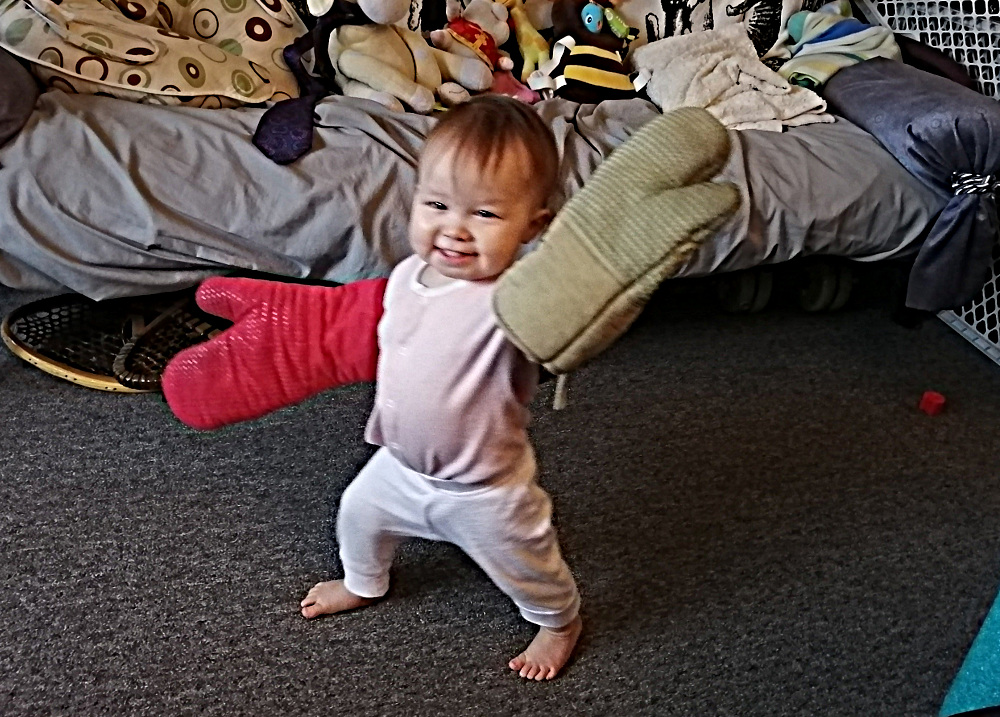 Unlocked child-proof locks for our kitchen cupboards and drawers;
Un-closed bum-wipe boxes;
Me, wearing socks with my sandals;
Me, wearing a long-sleeve shirt indoors; apparently, Papa is meant to wear t-shirts alone!
Diapers, either not wrapped up, or not disposed of into the hamper;
Random bits of onion skin or other organics. Nowadays, though, you usually just pick them up and put them in our organic recycle bin;
Also, toaster popping up, or microwave alarm going off? You're on it!
And we daren't leave a door or a drawer even slightly ajar; and
The door-stopper for Mama and my bedroom door; heaven forfend that it just lie around not doing its job!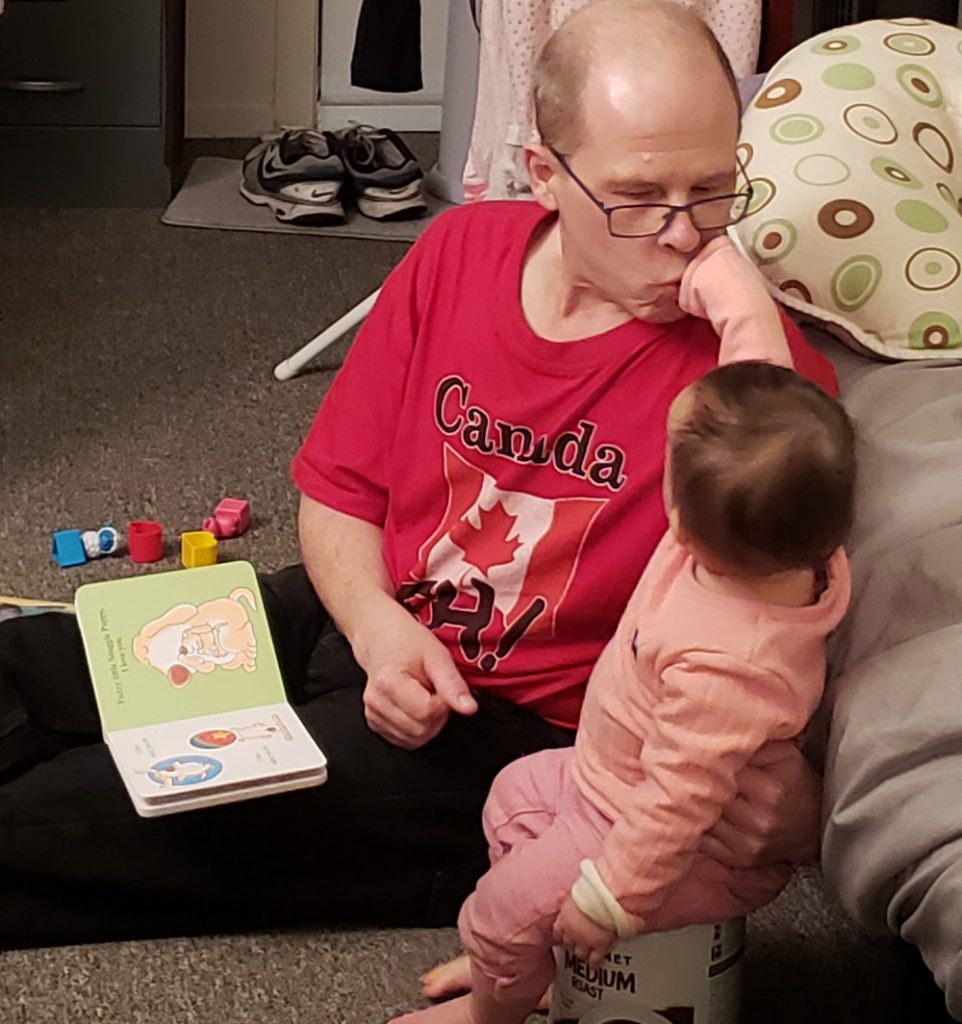 I want to say more — so much more! — but the new year is closing in fast is already into its second day, and I also want to get a new post up before that number rolls over to '21 turns into a three.
My next letter (I hope) will be a full-blown retrospective of your first full calendar year on planet earth. The other day Mama showed me a couple of videos we took of you around Christmas last year and — o! my — but the changes were shocking! (Not shocking as in unexpected, of course, but shocking in the, Where in the world has the time gone? kind of way.)
Anyway, I'm not, and never have been, one for making big New Year's resolutions, but I am going to try to write to you a lot more regularly than I have so far.
But whether or not, I hope you'll always be sure that,
I love you always,
Papa Z — Ottawa, December 28, 2020 – January 2, 2021

P.S. And to all you lurkers, Baobao wishes you a happy 2021!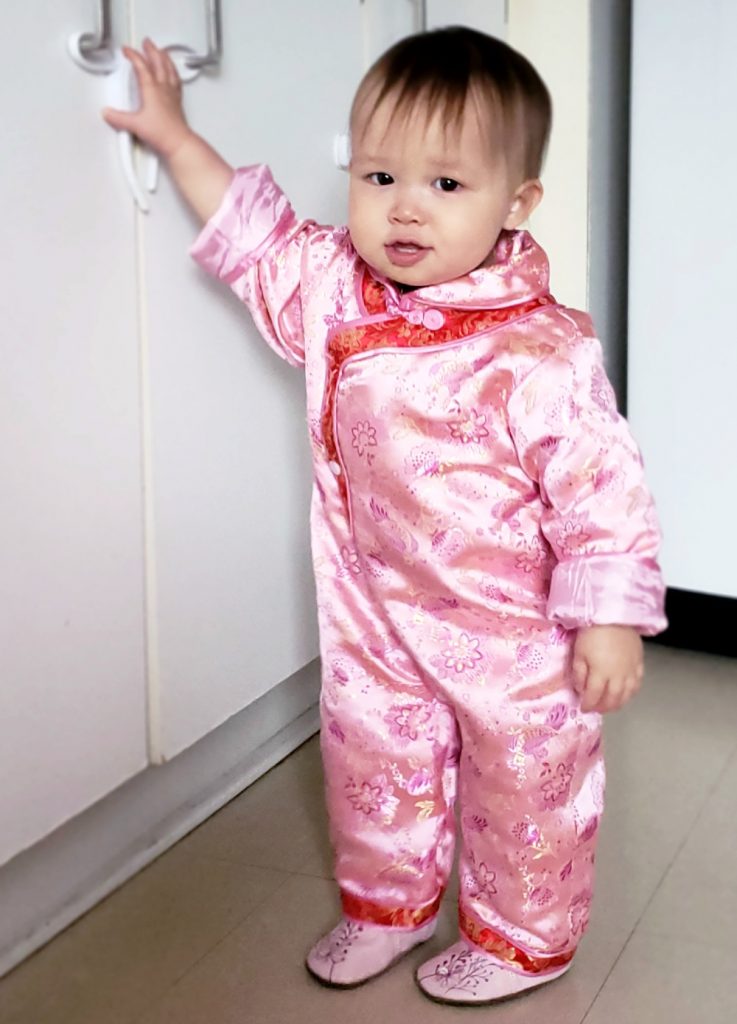 ---
Hey there! Since you're reading my daughter's correspondence, why not …